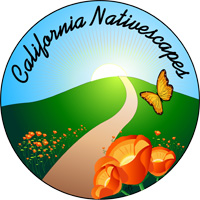 Contractor License #944670



CLIENT TESTIMONIALS
"Rebecca did a fabulous job making our backyard into a beautiful place, full of Native plants and flowers. Plus, our water bill has decreased dramatically! She was always willing to work with us to make sure we got what we wanted: a great look, within our budget, expertly done, friendly, and reliable. We've referred our friends to her and heard similar feedback. We highly recommend her!"
- Carmen, San Jose, CA
"Rebecca and her team were fantastic. She is on cutting edge of sustainable California Native landscapes. I highly recommend her business, California Nativescapes, for design, advise and the magic of turning a 60's dingy landscape into a little bit of California paradise."
- Sharon, San Jose, CA
"We had nice enough lawns. Now, we have a beautiful low-water landscape of Native plants. In ten months since installation, the plants have burst out with a variety of textures and colors. There are berms, a small meadow of wild flowers and a hand-laid rock wall that surrounds a mound of forest-floor ferns. Rebecca was creative and easy to work with. We are very pleased with the results."
- Richard, San Jose, CA
Welcome to California Nativescapes! Specializing in environmentally appropriate and sustainable Native landscaping services.

Our Mission
We provide residential owners with sustainable Native plant landscaping design and installation, and maintenance services. We create natural landscape designs that are appropriate for each client's particular site, creating a self-sustaining environment that will meet your unique needs. Our goal for each design is to create a beautiful, sustainable, and economical garden appropriate for California's natural conditions.

About Us
Owner, designer & Builder Rebecca Schoenenberger, has a diverse background in sustainability and natural systems. Her educational background includes an Associate of Science in Park Management, and a Bachelor of Science in Environmental Studies. She also has several years of experience in landscape design and maintenance, based on nature. She has an extensive knowledge of Native plants, including which plants will thrive in which locations. Since 2011 Rebecca has been a volunteer Santa Clara County Master Gardener, and continues to improve her understanding of edible landscaping, using ecologically sound methods.